For fifty years, Hallak Cleaners the Couture Cleaner has been entrusted with Manhattan's finest wardrobes. New York's fashion boutiques have been recommending Hallak to their loyal customers for years. They understand the importance of quality fabric care and protecting their client's investment. While Hallak is known for their expert handling of couture and other precious items, they also make it a point to give your more casual garments the same level of attention. Their representatives are always on the look out for the hard-to-notice stains, loose seams, missing buttons, etc. You can trust Hallak Cleaners with your entire wardrobe and then some. A sample of some of their specialized services:
Tables & Bed Linens
Suede, Leather & Furs
Couture & Casual Wear
Custom Interior Services
Expert tailoring department located at both locations.
Complimentary Pick Up and Delivery Service 6 Days a Week.
Hallak Cleaners
1232 Second Avenue (near 65th)
New York, NY 10065
If you have any questions or would like to schedule a pick up, please feel free to email us at info@hallak.com
***
The Collection is multiple-level surreptitious and winds you in several layers of drama from the start. During the entirety of the series there is no slow point and if you think it is slowing down it is only going to be crescendo/decrescendo when you go back and look at it. This is not a series that you casually watch while multi-tasking because you are prone to miss something key. It is deserving of every second of your attention. What is Paul Sabine capable of, for better or worse? You will be entertained, intrigued and enlightened by The Collection. It's written at a high level and every aspect is intelligent.
Style has never been better in a tv drama, and we liked the art-deco influences tremendously. The cinematography is phenomenal and the camera-shot perspective is highly laudable. We like that they included a hair stylist in the cast. (Edward Tricomi has earned our highest recommendation.) Since we have known it, fashion has always been cut throat and as total capitalists appreciating competition, we love it that way. We actually even loved the music.
Dream sequences were strong in particular and every shot of every minute is well-thought out and edited tightly.
The strongest actors by far are the family trio of brothers Paul Sabine (brilliant businessman), played by Richard Coyle, Claude Sabine (creative chaotic), played by Tom Riley, and their horrific mother, Yvette Sabine, played by Frances De La Tour. Blood is thicker than water...to a degree. Sometimes. The conniving mother is the perfect stage mother gone bad, and De La Tour executes this performance in amazing fashion. With all due respect to Maggie Smith, Frances is absolutely the new Dowager Countess.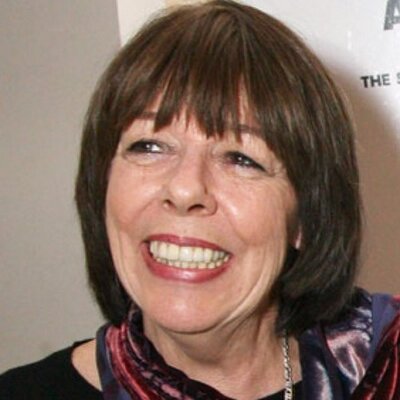 Frances's Twitter picture-not what she looks like in the show
We wanted to visually include her as she is triumphant!
"Paris is paradise. This is purgatory."
"Her first husband died. I met her. It was his only escape."
The epitome of annoying, Yvette Sabine by Frances has stellar delivery of lines, especially to Helen and Charlotte. They will be the highlight of your life for weeks. You can only dream of coming up with phrases so cutting! Constantly she is in everyone else's business and you will be so glad you are not related to this character.
Who is the talent behind the designs? We won't give it away totally, but it is not all that meets the eye in The Collection so pay close attention. Paul is a believable charmer with sage statements, and is open to interviews with American journalists that have much more sinister motivations than we ever have had, namely Stan Rossi. Watch out for him and remember this is only fiction! The constant bickering between brothers is pure television gold, as it elevates to matters of life and death. Remember, good taste can happen to bad people.
Coyle as Paul portrays terrific sense of frustration with his brother Claude's total inability to see which side his bread is buttered on and his constant attempts to rein in his brother are highly entertaining. We do like that they are independent and do not include a PR firm in any regard which is key to fashion success. The business of fashion versus the creative aspects are in constant battle, creating further entertainment for the audience. Paul knows that you should save your energy for the fights that you can win.
Some of the casting and ultimately, the acting is not as phenomenal as these three, whom we thought were by far the best. There was not a weak link; all were good. We did find it interesting that there is a mix of British, French and American actors and liked that.
The Collection spans the spectrum of human emotion, and is unafraid to go to the dark side. The underworld of gay sex, darkness and violence is captured well, and we perceive it to be accurate but do not know this world.
Every aspect of the visual is tremendously superlative from the set to the fashion to the color combination evocative of phenomenal mood creativity. Claude, we want your apartment in Paris with the light, the view and the Tiffany blue tub. Our one criticism would be that the cars, although stunning, do seem to be created before 1947. Of course, WWII had effects on car sales and distribution. Also, the poor bunnies in the backyard and doorstep hopefully will have a better day in the sun on an upcoming season we hope.
Not only is this the smartest script we've seen in ages, but also it has some of the best acting by people we have never seen before or heard of, a total rarity. Maybe we should know Mamie Gummer as she also is a Connecticut girl and attended Miss Porter's (Peachy is an ancient; Peachy graduated, was a four-year senior and was elected to a term on the Alumnae Board) but we do not know her. We loved the darkroom scenes and will never forget Lucy Byrd Pegau's instruction on how to differentiate chemicals!
The question is not IF there is going to be a season two: the question is: WHEN may we view it? It would be a monumental mistake if there is not a second series.
The only thing that is missing is an actual Paul Sabine store where you can shop after you watch the show, but maybe they will come up with that after this airs on PBS.
The Collection's Inaugural season is Highly Recommended by Whom You Know.
If you worked on this, we want to hear from you directly please! peachydeegan@gmail
***
World War II is over and stylish clothes are back as Paris recovers from the horrors of the Nazi occupation. Richard Coyle (The Fall), Mamie Gummer (The Good Wife), and Tom Riley (Da Vinci's Demons) star as a family struggling to build a fashion empire at any cost, on The Collection, airing in seven gripping and gorgeous episodes on MASTERPIECE on PBS Sundays October 8 – November 19, 2017 at the special time of 10pm ET.
Focusing on the Sabine family, composed of business-savvy Paul (Coyle), his wealthy American wife, Helen (Gummer), and his brilliant but dissipated designer brother, Claude (Riley), The Collection also stars Frances de la Tour (Harry Potter) as Paul and Claude's overbearing mother, Yvette, who will stop at nothing to advance her boys' careers—often to their dismay.
The series also features Jenna Thiam (The Returned) as Nina, the seamstress with a secret and a future in modelling; Max Deacon (Hatfields & McCoys) as Billy, an American photojournalist on a mission to record the vitality of postwar Paris; Alix Poisson (Last Love) as Charlotte, the ambitious head saleswoman at the Sabine studio; and featuring Michael Kitchen (Foyle's War) as Paul's mentor, Frederic Lemaire.
Set in 1947, The Collection captures a turbulent era in French history, when partisans hunted down Nazi collaborators and anyone with something to hide shunned the past and embraced the future. Fashion became the perfect expression of this impulse to look ahead. Wartime rationing, drabness, and erotic restraint gave way to alluring displays of color, form, and fabric in women's clothes—for those who could afford them.
In The Collection, the Sabine family firm is at the forefront of this exciting but ruthless pursuit, and Paul has been chosen by the French government to lead the battle to reclaim the nation's preeminence in the couture world. Widely regarded as the genius behind his studio's stunning designs, Paul is in fact purveying the work of his brother, Claude, an unbridled sensualist who can't restrain his amorous impulses. In free moments, Claude works in a frenzy to sketch new gowns, often consigning them to the wastebasket, where they are retrieved and turned into the Sabine collection's latest sensations.
Into this superficially elegant universe comes hard-boiled American reporter Stan Rossi (Stanley Townsend, The Tunnel) with suspicions about Paul's past, but so far little to go on. Assigned to photograph a fashion story for Rossi, Billy soon parts company to become the Sabine studio's official photographer. In the process, he elevates the worker Nina to be the signature model for the firm—much to the chagrin of the reigning top model, Dominique (Poppy Corby-Tuech, The Royals), who plots revenge.
Adding to the turmoil, police Inspector Bompard (Allan Corduner, Homeland) enters the picture when Yvette's scheme to get Claude under control goes horribly awry, leading to an investigation that threatens the entire Sabine enterprise.
Who knew that couture could be so cutthroat?
The Collection is a Lookout Point and Artis Pictures Production co-produced with Amazon Studios, Federation Entertainment, MFP and MASTERPIECE with the participation of France Télévisions and BBC Worldwide Ltd. It was producd in Wales and France with the support of Welsh Government, Pinewood Studios and the CNC. The creator is Oliver Goldstick. The directors are Dearbhla Walsh and Dan Zeff. The writers are Maya Goldsmith, Oliver Goldstick and Francesca Rollins. The executive producers are Justine Vaughan, Liam Keelan, Mederic Albouy, Pascal Breton, Toma De Matteis, Rebecca Eaton, Ivan Dunleavy and Robert Norris.
About MASTERPIECE
The top-rated primetime show on PBS, MASTERPIECE celebrated its 45th anniversary in 2016. MASTERPIECE is presented on PBS by WGBH Boston. Rebecca Eaton is executive producer. Funding for the series is provided by Viking Cruises and Farmers Insurance® with additional support from public television viewers and contributors to The MASTERPIECE Trust. MASTERPIECE is known for presenting iconic shows such as Upstairs Downstairs, Prime Suspect, The Forsyte Saga, Poldark, Sherlock, Downton Abbey, and Victoria.