World Premiere & Recording
CONCERT - One Night Only
Tuesday, April 26, 2022
7:30 PM
Lincoln Center, Alice Tully Hall, NYC
CD to be released 2021-22 Season
Two semi-operatic oratorios pay tribute to wise and strong women of antiquity. In the case of Lavinia, conceived by Virgil but fleshed out by the novelist Ursula Le Guin, she stands up against kings and threats of war to marry Aeneus, the man she has chosen. In the case of Anna, she made of her life a testimony not just to her father, but to history, education, and the potential power of women.
Both texts are partially inspired by and styled after Homer's Iliad, with the Aeneid and the Alexiad even using parallel names.
April 26, 2022 Concert
CAST
Lavinia/Anna Komnene - Wendy Bryn Harmer
Aeneas/Bryennius - Richard Troxell
Latinus/John - Matthew Anchel
Virgil/Alexios - Ben Edquist
Amata/Anna Delucina - Sofia Selowsky
Turnus/Constantine - Alexander McKissick
Irene - Jaqueline Bolier
Maria - Larisa Martinez
Conductor - Steven Mercurio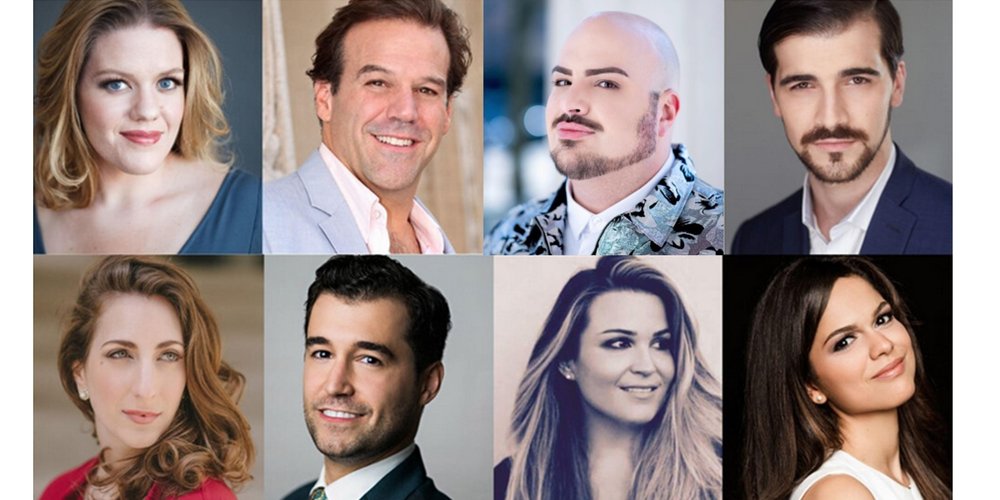 Top Row: Harmer; Troxell; Anchel; Edquist;
Bottom Row: Selowsky; McKissick; Bolier; Martinez
LINER NOTES
Anna Komnene
Anna Komnene was the author of the Alexiad , a ten volume history of her era of Byzantine history. She was born in 1083 in Constantinople, the first born child of Emperor Alexios, on whom her history is focused, and who reigned over the vast Byzantine empire from 1081-1118. Anna was a princess, scholar, physician, and a serious historian.
Almost a millennium since it was written, Anna Komnene's Alexiad is still very much in print and stands as perhaps the most reliable history of her period and the only Greek source on the 1st crusade. Likely the first European female historian, she was a woman of extraordinary education, dedication, and intelligence. The Alexiad is considered a masterpiece of literary and historical writing and an exemplar of Thucydides. Anna was also accomplished in medicine and attended her father as he was dying. Anna portrays her family as supportive, loving and close. Alexios put great faith in the strength and wisdom of women, granting his mother and later his wife, power to reign in his frequent absences and designating Anna as his successor.
Anna is perhaps the earliest model of an intellectual woman balancing writing and family (Kolovou). She may stand as the most highly educated woman not only of her time, but of history before her. This story embodies a tribute to the power and value of education.
Anna was the emperor's first-born child and at her birth he declared her the heir to his throne. But, as he lay dying, her younger brother John stole his imperial ring and, with a combination of trickery and violence, took over the royal palace and the imperial army. He then deprived Anna and her mother of all their assets and banished them to a convent.
For centuries male historians maintained that Anna had attempted to murder her brother to obtain the throne. But recently historians have proven her innocence—it took almost a millennium to clear her name. Shreve has distilled this fascinating history into a poetic libretto. A video montage of the rich and glorious artwork of the Byzantine period provides an inspiring canvas for imagining Anna's colorful life.
Lavinia
This oratorio is a feminist take on the Aeneid focused on the third woman in Aeneas's life, Lavinia. As Virgil was dying when he was writing this final section of the book, her presence is somewhat limited. However, Ursula Le Guin, the prizewinning author of 14 brilliant books, has in her novel reconceived Lavinia in a more prominent and assertive role, distilled into a libretto by Ms. Shreve.
Lavinia is the only daughter of King Latinus of Latium and is pursued by many suitors who wish to take over their kingdom. Aeneas is urged by an omen to leave Dido and go to Latium to found Rome. This work brings to life the romance between Lavinia and Aeneas and their conflict with King Turnus, her aggressive suitor, who demands war to win her hand as a bride.
Shreve has merged Virgil's original text with that of the novel to create a vivid musical vision of this story. The beautiful and extensive artwork of prominent artist Barnaby Fitzgerald (son of Robert Fitzgerald) the distinguished world-renowned translator of the Aeneid, features classical imagery re-conceived with a contemporary vision. A projected video montage of this work provides a vivid backdrop to the musical translation and embodiment of the story.
International conductor Steven Mercurio conducts both the concert and recording
Visit Lincoln Center's website to purchase tickets for the April 26, 2022 concert.
More details on the recording will be shared here in the near future.
***
About Georgia
New York-based American composer Georgia Shreve is a respected contemporary artist. As a composer, Shreve's creative voice, passion for music, words and visual imagery, combined with her interest in poignant, timeless themes and exploring the nature of relationships, has resulted in a growing body of compelling, dynamic works for orchestra, voice and small ensemble. Her settings of her original texts and texts by renowned poets and writers have been presented and performed by the Manhattan Contemporary Chamber Ensemble, and singers and musicians who regularly perform on top orchestral, operatic, Off-Broadway and Broadway stages. Having had her music performed at Carnegie Hall's Weill and Zankel Halls, Cami Hall, Steinway Hall, and National Sawdust in New York City and at the UK's Royal Over-Seas League in London, Georgia Shreve's work makes its Lincoln Center debut with "Courageous Women of Antiquity." A versatile, triple threat, Shreve's interests are not only in music, but also span the written word and film. Several of her plays and musicals have been performed at New York's Daryl Roth 2, Heckscher Theater, and Theatre Row. Her Rock opera, Love Sick, and her musical, Dialogues of the Travelers, both debuted at National Sawdust to sold out runs. Shreve's talent has been acknowledged publicly: The New York Times praised her setting of TS Eliot's The Love Song of J. Alfred Prufrock as "expansive, psychologically pointed"; her Piano Quartet won First Prize in the Contemporary Recording Society's Competition; her short story, "The Countess of M-" won the Stanford Magazine Fiction Award; and her poetry and writing has been published in magazines including Poetry, New Yorker, New Republic, and New Criterion. Her screenplay "Homes" was a top ten finalist in Creative Screenwriting's AAA Screenplay Contest, a Quarter Finalist in the Writer's Network Screenplay Competition, American Zoetrope Screenplay Contest, and Fade In Magazine Screenplay Competition, and "Western Waters" was a Quarter Finalist in the Writer's Network Screenplay Competition. Georgia Shreve has studied composition with composer/conductor/pianist Dr. Howard Cass. She also earned degrees from Stanford, Brown, and Columbia and the University of Pennsylvania in in Creative Writing, Literature, Psychology and Philosophy.